What You Already Know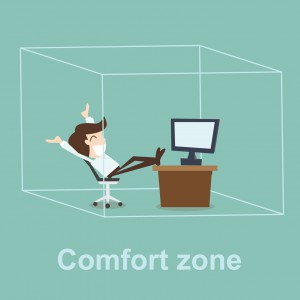 Your comfort zone is that psychological place in your mind, that set of neural pathways most commonly used, which represent the most common actions, reactions, and interactions in your life. It is that artificial boundary that you have in your life that makes you feel safe and secure. You also know that you need to step out of your comfort zone if you want to grow, thrive and achieve.  So in order to do this you need to know how to measure your comfort zone
Where is the Edge of Your Comfort Zone?
In order to step out of your comfort zone you need to know where it ends. You need to understand where you are limited and what is limiting you in your progress forward.
You probably already have some idea where the edges of your comfort zone are, for some things at least. You can feel when you step out of your comfort zone – you start to feel uncertain about what you are doing and what is going to happen. You feel excitement and also fear about the future. You feel excitement because doing something new is exciting; it is a new opportunity. You feel fear because you don't know how to do it so you might not do it right.
You also behave a certain way when you step out of your comfort zone. Maybe you start to procrastinate about things, maybe you have a certain set of negative self talk, or perhaps you become irritable. Those sort of behaviors are natural and allow you to notice being out of your comfort zone.
It is important to remember a few things when you step out of your comfort zone
You can succeed!
The only way to succeed is to be out of your comfort zone.
It is OK if you fail – it is part of the process and not the end of the world.
You can step back into your comfort zone if you have to and take a break – just don't stay there
How To Measure Your Comfort Zone
Marcus Taylor (link to his page) developed the world's first comfort zone measurement tool – the comfort zone survey. This survey gives you a measurement of the size of your comfort zone. He developed the survey to make more people aware of comfort zones and to explore comfort zones. He describes his measurement survey, how it was developed and what he learned in the video below.
You can measure your Comfort Zone at Marcus Taylor's website, What is My Comfort Zone.  It takes about 5 minutes to complete and measures your overall comfort zone by averaging three comfort zones: your professional comfort zone, your adrenaline comfort zone and your lifestyle comfort zone. Take the survey and then come back to compare to the average values in each area!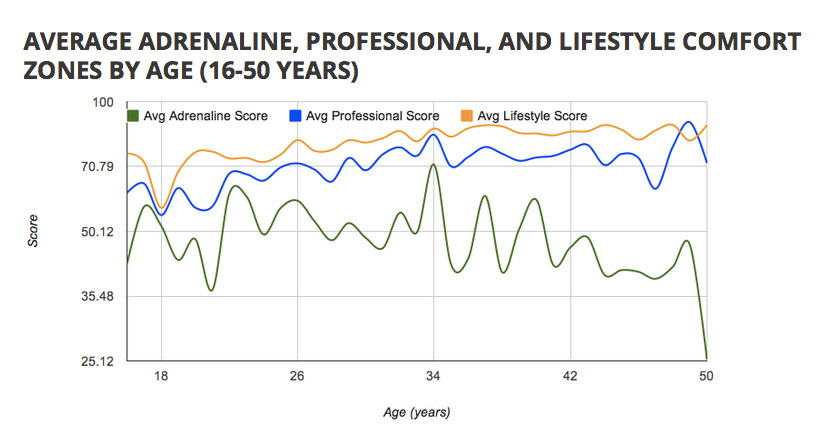 Taylor, Marcus. Average Adrenaline, Professional, and Lifestyle Comfort Zones by Age (16-50 Years). Digital image. How Does Your Score Compare? N.p., n.d. Web. 29 Mar. 2015. <http://www.whatismycomfortzone.com/comfort-zone-trends/>.
Mr. Taylor was able to draw some interesting conclusions from the data obtained in his "What is My Comfort Zone" project. He noted that people with larger comfort zones (as measured by his survey) earned more money. He also noted that males had larger overall comfort zones on average than females. Females had larger "lifestyle" comfort zones, but males had larger "adrenaline" and "professional" comfort zones. Our comfort zones also change as we age depending on how we continue to challenge ourselves.
This groundbreaking work is the first step in allowing you to explore and monitor your  comfort zone expansion! Take the time to think about and measure your comfort zone and see what you can learn about yourself.  Regardless of what your current comfort zone is, you can always grow and expand it!  Getting use to stepping out of your comfort zone allows you to grow and thrive.  It gets easier each time you do it!  So take the step!