Your comfort zone is an amazing place. You know exactly what to expect and you know how to respond. You know the people in you comfort zone, how they normally behave and how you usually respond to them. You may have just happened into your comfort zone or you may have worked hard to get there. You have done these things every day, day after day and that is why they have become your comfort zone. So, why leave your comfort zone?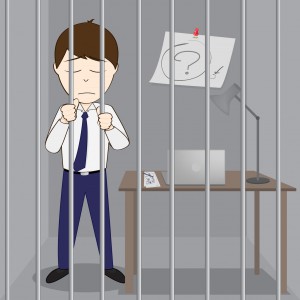 Well your comfort zone is truly wonderful. It is great that it exists. It gives you a safe and secure place to be at times and you need that.  When life becomes overwhelming or you just need to rest, you can go to the places you normally go to, do the things you normally do, eat your comfort food and hang out in your comfort zone. But you cannot live there… it is a very limiting place to live in all the time. It can limit nearly all aspects of your life: your goals, creativity and mental and emotional capacity to handle stressful situations, and many more aspects of your life.
6 Great Reasons to Leave Your Comfort Zone
You Can Reach Your Goals and Achieve Your Dreams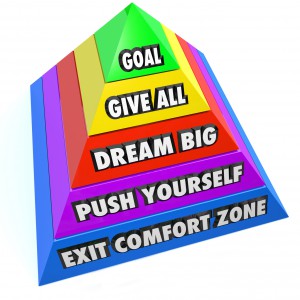 Your comfort zone consists of all the things you already do. If you want something different, then you have to do something different. If you could reach your goals by doing what you are already doing then you would already have reached them. There is absolutely no way to achieve your goals unless you step out of your comfort zone. That little bit of discomfort and anxiety lets us know we are doing something new, change is happening and that is GREAT!
You Can GROW Your Comfort Zone
There is a certain amount of truth to the saying "Use it or Loose it." In the case of your comfort zone, if you are not pushing the edges of it, it will tend to shrink. Trying new things, stepping outside your comfort zone, and allowing yourself to experience them allows your mind to become familiar with the new things. After repeating them, these new things soon become part of your New Comfort Zone and it grows. Then you get to try something new again!
You Can Learn to Deal With Change Better
When you leave your comfort zone you experience a certain type of stress and anxiety. The further out of our comfort zone you step the greater the level of stress and anxiety. If you never feel this type of stress and anxiety it can be scary and inhibit you from taking action.
The sad part about life is that sometimes it pushes you out of your comfort zone. You loose our jobs, have an accident, someone close to you gets sick, you need a new car, have to move… those parts of life just happen to you. These events push you out of your comfort zone and it feels bad. Not only are you feeling all the bad emotions of the event – worry, sadness, grief – you are also feeling that type of stress and anxiety of being in a situation you are not familiar with, of being outside your comfort zone
If you have a habit of stepping outside your comfort zone then you are familiar with those feelings. You are actually more comfortable with being outside your comfort zone. You know that you can respond to the situation and take the necessary action which will help you get through that rough spot in your life. You KNOW you can do it!
You Can Stop Procrastinating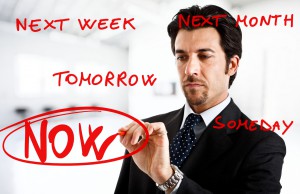 You have felt it, that pull in that prevents you from doing that task. That thought that tells you that you can do that later or even tomorrow. That is the call of your comfort zone, keeping you in the rut of your life.
Every time you do something you activate certain a neural pathway in your mind. If you repeatedly do something, the neural pathway gets stronger and stronger and it feels easier and easier to use.  Your most commonly used neural pathways are the ones that feel comfortable and make up you comfort zone.
So to stop procrastination you need to weaken the old neural pathway and strengthen a new neural pathway. You need to do step out of your comfort zone and do something different. That's all that is happening and that's all it takes!.
You Can be More Creative
Creativity requires stepping outside your comfort zone. Not only is there evidence  that creative minds embraced stepping out of their comfort zone, but it also just makes sense. Being creative by its very nature means doing something different. Doing something different means stepping out of our comfort zone and feeling that bit of discomfort. Feeling that bit of doubt that your new idea will work. No one who has ever done anything new has done it while they were in their comfort zone! So be take a step and be creative!
You Can Strengthen New Neural Pathways and Create New Habits
So the actions we take everyday are the habits we have, the neural pathways we use regularly. A habit is just a neural pathway rut.   Every time we use the neural pathway it becomes stronger. But every time we use a different neural pathway the old pathway gets weaker and the new neural pathway gets stronger. Breaking a habit is, to a large extent, creating a different neural pathway and making it strong. Making it stronger than the old neural pathway. While that may sound hard, it is not. It just takes repetition and practice. Like learning anything you have learned in the past – walking, eating, driving – they seem easy now but at one time there was no neural pathway for that activity and they seemed hard. Breaking a habit and creating a new habit is the same – just build on each event, a little at a time, and make the new habit strong!
You Can Even Age Better
There is also scientific evidence  that confirms that learning new things, growing our comfort zones, as we age improves mental sharpness. It is not good enough to do the things we normally engage in, even if they are mentally active things; you need to do new things to keep the brain working well. It is another case of "Use it or Loose it." So Use It!
These are some of the great reasons to take to break free of your comfort zone – and there are many more. You NEED to allow yourself that bit of discomfort or anxiety.  It is actually life telling you to get excited because something new is happening. So take that  step outside your comfort zone!